This article is on How to Write a Resignation Letter [Detailed Stepwise Guide with Format, Sample, Tips, Do's and Dont's and FAQs]
So you have decided to quit your current job, maybe because you just got your dream opportunity, a better job, a higher position, or maybe a more favorable work culture. You are all set to live a differently pictured future; you just started imagining it. Then comes the toughest part—the resignation. Yikes!
A responsible and properly structured resignation letter may make the quitting process easier and smoother and end it on a positive note. On the other hand, an irresponsibly written and delivered resignation letter can do the exact opposite.
What is the Resignation Letter?
Resignation is the official form of quitting the current job. The letter given to the employer by the employee announcing the resignation is called a resignation letter. It is a protocol followed in the work culture. You may call it a formal way of bidding goodbye. It also serves as a formal proof of your resignation. The only record of the resigning process that could be traced later if required is this resignation letter of yours. That's why it becomes extremely critical to know how to write a resignation letter.
Why should you write a Resignation Letter?
You should write one because it's a responsible and ethical way to switch jobs. You should provide the resignation letter at least 2 weeks before the date you are willing to leave the job.
Writing a Resignation Letter is important for the following reasons:
In that way, you could finish and pack up the things on which you were working, and nothing remains in limbo.
Your work could be properly understood by the person during this period who would be taking over your job next. It would protect them from any inconvenience of misinterpretation and mismanagement of ongoing work.
It is part of work etiquette.
The new recruiters get the assurance that you won't quit the job, leaving things incomplete and messy.
You will be able to seek job-related entitlements like pension, severance pay, or overtime pay as mentioned in your contract.
You would be on good terms with the employers for future references.
Below we have explained with the help of infographics step-by-step, How to Write a Resignation Letter —
Suggested Format of the Resignation Letter —
Spacing and margins – Use the left to right alignment. It is suggested to keep 1″ margins, the single spacing between words, and a space between paragraphs.
Length – It is suggested to not to exceed one typed page.
Font and Size – Keep the size of the Alphabet between 10-12 points and use formal fonts like Times New Roman, Calibri, or Arial.
Error correction – Check for grammatical errors and spelling before mailing or sending it.
How to compose a Resignation Letter?
Coming to the trickiest part, the composition of the resignation letter becomes easy once you understand the basics. It should be written briefly in a very professional and concise manner. Any criticism or harshness must be avoided. 
Letterhead – It includes the –
Name of person announcing the resignation
His/Her details
Date
Employer's Name
Employer's Job Title
Company's Name
Opening Greeting – It should be a formal greeting followed by the Employer's Name or Designation.
Letter Body – The content must be brief and to the point. There must be proper paragraph formation. The content of the respective paragraphs must be as follows –
Para – 1 – Identify yourself in this paragraph. Announce the resignation and mention your last working date in that company.
Para – 2 – Mention the positive points of your current job. Be grateful to the opportunities for growth and self-improvement that the company has provided to you.
Para – 3 – Offer suggestions or assistance in the transition.
Para – 4* – Describe your current workload. 
Para – 5* – Inform them of your contact information for any further knowledge.
* The last two paragraphs ( Para – 4 and Para – 5 ) are optional.
Letter End – With a formal greeting, sign off the letter.
Given below is a Template Format for the Resignation Letter —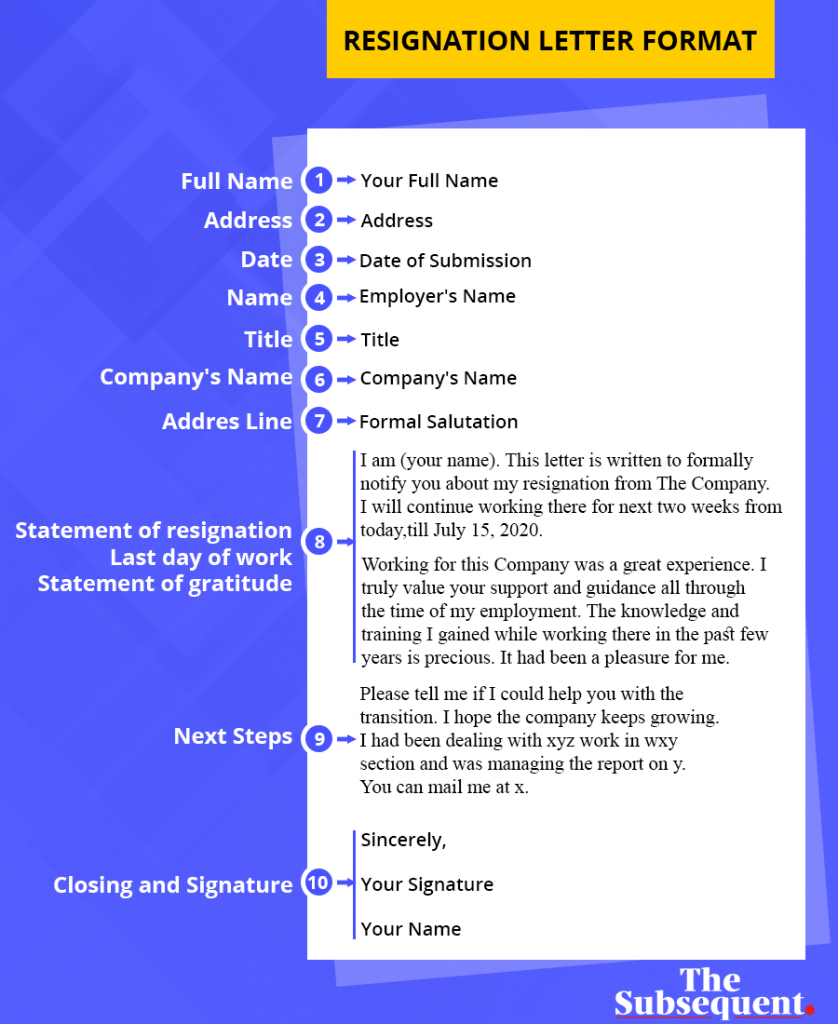 Once the composition is done properly, you are ready to mail it to your employer and reach him/her with a printed and signed copy of it. But before that, do remember to check for the following dos and don'ts.
Dos and Don'ts while writing a Resignation Letter —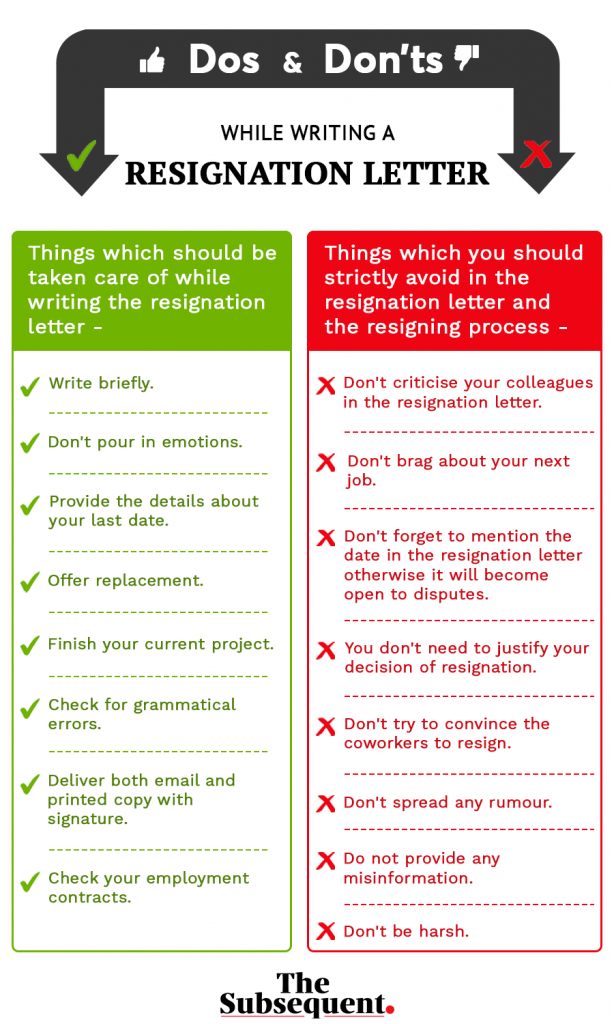 Switching jobs brings responsibility for the proper closure of the previous one. What could be better than ending it on a positive note? Follow all the suggested instructions to write a well-organized resignation letter that meets your requirements. And Voila! You are ready to begin fresh with your new job. Good luck!
---
FAQs
Frequently Asked Questions on How to Write a Resignation Letter —
---
1. Should I quit a toxic job?
Answer: Yes! If you ever find your work environment uncomfortable or your job disturbing your mental or physical health, you should resign it. The earlier you leave a toxic job, the better it is for you.
---
2. Can you put personal reasons for leaving a job?
Answer: Your reason for resignation could be professional or personal. But, you don't necessarily need to justify your decision. You may mention the reason if you wish to.
---
3. Can I just walk out of my job?
Answer: If you aren't bound for any period by any contract, then you may just walk out of your job. But still, it is considered to be against professional ethics. In case you are bound with a contract and even then you just walk out of your job then you may have to face legal repercussions.
---
4. Can you resign verbally?
Answer: Yes! You can resign verbally. But the formal way to leave a job is by writing a resignation letter. It also remains a record that could be traced in the future, if required.
---
You may be interested in reading about 20 Best Romantic Movies on Netflix of all time to watch before you Die!